A match between monsters that both possess multiple forms, including microscopic, flying, and gigantic bipedal final forms, are composed of trillions of microorganisms that have merged together, are extremely difficult opponents for Godzilla, and are incredibly deadly to organic life, fight to the death. Vote and post the comments down below of who would win.
Destoroyah will have the Oxygen Destroyer Bomb in Godzilla Unleashed.
Destoroyah will have the Oxygen Destroyer Chest he was going to use in the alternate ending of Godzilla vs Destroyah.
Destoroyah
Edit
Destroyah was created by the Oxegen Destroyer, a device which killed the first Godzilla. After its detonation, it revived and mutated a group of Precambrian Crustaceans. 42 years later, the Creatures attacked Tokyo and eventually combined into the final form of Destoroyah.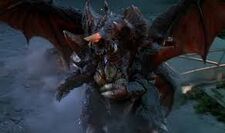 Powers/Weapons:
Flight
Strength
Durability
Can split into lesser creatures and recombine
Micro Oxygen Ray
Powerful Tail
Can fire an Oxygen Destroyer Beam from chest
Oxygen Absorber Mines
Oxygen Destroyer Bomb
Weaknesses:
Is Vulnerable to deep cold
Hedorah was an alien life form that travelled to Earth and mutated with the pollution of the Earth to become the Smog Monster, Hedorah.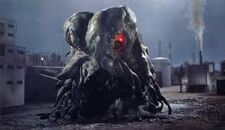 Powers/Weapons:
Body has a corrosive effect
Eye Beam
can turn to Flying form at will
Immune to the effects of Godzilla's Atomic *Breath and radiation
Can shot sludge from its chest
Increases in toxicity as it consumes more pollution
Extraordinary jumper
Able to join with other Hedorahs to change its form and size
Weaknesses: