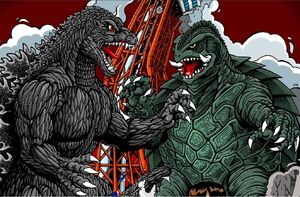 THE MOST EPIC KAIJU COMBAT EVER!! GODZILLA AND GAMERA IN AN EPIC BATTLE FOR THE THRONE AS KING OF THE MONSTERS!!! Who will win? YOU decide via comments and/or voting poll! As Gamera is not as popular as Godzilla is, there is a list on his abilities:
Abilities
Edit
Fire Breathing
Protective Shell
Pure Plasma beam from chest
Flight
Fireball Ejection Suicide
Vanishing Fist
Elbow Claws
Fangs
Weaknesses
Edit
Cold
Huge wounds
Ad blocker interference detected!
Wikia is a free-to-use site that makes money from advertising. We have a modified experience for viewers using ad blockers

Wikia is not accessible if you've made further modifications. Remove the custom ad blocker rule(s) and the page will load as expected.