King Ghidorah takes on MechaGodzilla 2. Leave a comment below and a post on who you think would win.
Notes
Heisei King Ghidorah
MechaGodzilla 2
King Ghidorah
Characteristics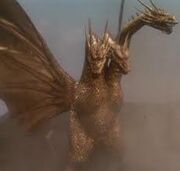 Height: 150 metres
Weight: 90,000 tons
Abilities
Flight - Can fly at Mach 3
Strength - Can lift over 90,000 tons
Gravity Beams
Necks can constrict opponent
Hurricane winds from wings
Weaknesses
MechaGodzilla 2
Characteristics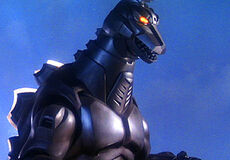 Height: 100 metres
almost killed but only paralyzed godzilla
Weight: 150,000 tons
Abilities
Durabilitiy
Plasma Grenade
Eye Lasers
Mega-Buster Ray Cannon in mouth
Tranquilizer Missiles
Paralysis Missiles
Shock Anchor Cables
Can merge with Garuda to become Super MechaGodzilla
Can switch to G-Crusher
Weaknesses
slow and lummbering
Weak in hand-to-hand combat
Votes
King Ghidorah vs MechaGodzilla
Ad blocker interference detected!
Wikia is a free-to-use site that makes money from advertising. We have a modified experience for viewers using ad blockers

Wikia is not accessible if you've made further modifications. Remove the custom ad blocker rule(s) and the page will load as expected.