Two of Godzilla's greatest opponents go head to head.
SpaceGodzilla
Edit
CharacteristicsEdit
Height: 120 metres
Weight: 80,000 tons
Powers and Abilities
Edit
Corona Beam - An energy beam
Regeneration
Telekenesis
Sharp Tail
Flight
Can increase in Power by being near his giant crystals
Can create energy sources
Can conduct energy through touch
Can create a shield that can deflect projectiles
Can blast energy from his Shoulder crystals
Weaknesses
Edit
Is Weakened if his shoulder crystals are destroyed
Destoroyah
Edit
Characteristics
Edit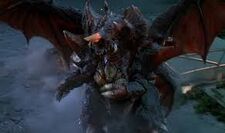 Powers and Abilities
Edit
Flight
Strength
Durability
Can split into lesser creatures and recombine
Micro Oxygen Ray
Powerful Tail
Can fire an Oxygen Destroyer Beam from chest
Oxygen Absorber Mines
Oxygen Destroyer Bomb
Weaknesses
Edit
Is Vulnerable to deep cold
SpaceGodzilla vs Destoroyah
Ad blocker interference detected!
Wikia is a free-to-use site that makes money from advertising. We have a modified experience for viewers using ad blockers

Wikia is not accessible if you've made further modifications. Remove the custom ad blocker rule(s) and the page will load as expected.