This is exciting battle between Spiderman and Batman. Remember to vote and write in the comment who you think would win and why.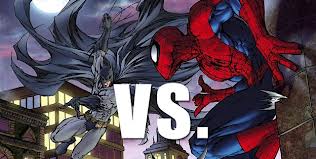 Spider-Man
Edit
Bitten by a Radioactive Spider that gave him Spider Powers.
Characteristics
Edit
Real Name: Peter Paker
Height: 5'10
Super Strength - Can lift up to 10 tons
Super Speed - Can run up to 200 mph
Super Durability - Can withstand over 10 pounds of explosion
Wall Crawling
Spider Sense
Abilities
Edit
Intelligence
Unique Martial Art - The Way of the Spider
Web Shooter
Spider Tracer
Weaknesses
Edit
Limited Durability
Anti-Chloride Pesticide
Certain enemies such as Venom can block and overcome his Spider Sense
Characteristics
Edit
Real Name: Bruce Wayne
Height: 6'2
Abilities
Edit
Peak human abilities
Can lift up to 250lbs
Can run
Detective
Martial Arts
Bat suit
Utility Belt
Batarangs - Come in several types
Kryptonite
Grapple Gun
Vehicles
Weaknesses
Edit
He has no Powers
Sometimes relies on weapons
Not as strong, fast or durable as Spider-Man
If his stealth is countered, he can be rendered helpless
Not Perfect
Many of his achievements take weeks-months of planning
Ad blocker interference detected!
Wikia is a free-to-use site that makes money from advertising. We have a modified experience for viewers using ad blockers

Wikia is not accessible if you've made further modifications. Remove the custom ad blocker rule(s) and the page will load as expected.