In this exciting battle. Leave a vote and a comment on who you think would win.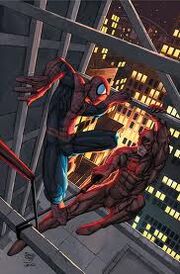 Spider-Man
Edit
Superhuman Strength - Can lift up to 10 tons
Superhuman speed - Can run up to 200 mph
Superhuman Agility
Spider Sense
Wall Crawling
Web shooting (Sometimes)
Web shooters (Usually)
Spider tracers
Durability is limited
Hurt by Anti-chloride pesticides
Certain enemies such as Venom can outmatch his Spider Sense
Daredevil
Edit
Abilities
Edit
He still can't see
Sense can be affected rendering him helpless
Ad blocker interference detected!
Wikia is a free-to-use site that makes money from advertising. We have a modified experience for viewers using ad blockers

Wikia is not accessible if you've made further modifications. Remove the custom ad blocker rule(s) and the page will load as expected.